In Mrs. Chancey's Second Grade Class,
We Are Thankful For….
---
Mrs. Karp's and Mrs. Pate's Class
Our class has been working on being responsible, developing our language skills, learning to manage our feelings in school. We have adopted "Pete the Cat" the cat as our class mascot. Pete the Cat is a calm, cool cat that takes life's difficulties in stride. He teaches the kids to look for the good in every day.
The students have become excited about reading and always look forward to read aloud time in our schedule. They are singing a long with the stories and starting to reread the stories during choice time. Pete has helped the students respond to "wh" questions after reading.
Next we will be responding to Pete the Cat through writing by giving opinions of the Pete the cat books we have read. In Social Studies we are learning the following new terms: Job, wants, needs, and choice. The students will be able to make connections to Pete the Cat's jobs in school and their jobs in school. A quote by Eric Litwin from Pete the Cat I love my white shoes, " No matter what you Step in , keep on walking a long and singing your song".
---
Mrs. Perkins' Class
Duck for President Election Day Project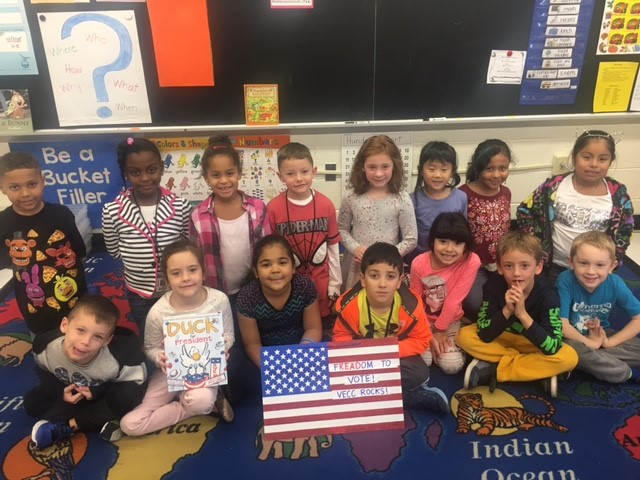 Our class read the story Duck for President. Since this was a Presidential Election year, students were very interested in the voting process.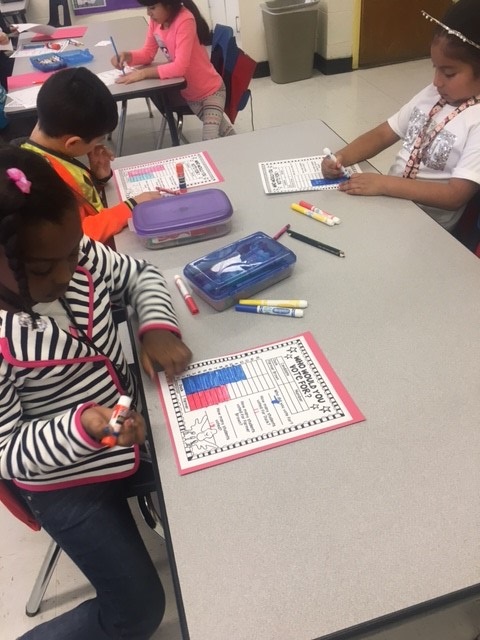 After reading the story, students discussed the differences between the two candidates, Duck and Farmer Brown. We filled in a venn diagram.
Then we voted. Each student got a ballot and put their folder up for privacy. We discussed how important it is to exercise your right to vote for who you feel is the best candidate. And it's a private decision.
Students discussed reasons for voting for either candidate. We discussed what it means to have a debate. When people have differing opinions, you need to be respectful.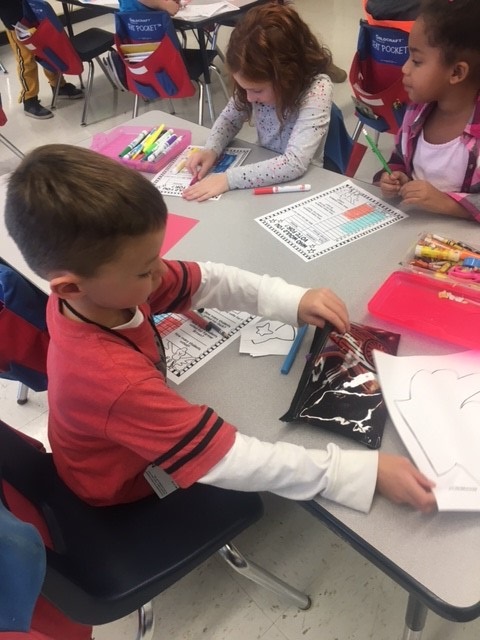 Owen said, "Farmer Brown is more mature and has more experience."
Sienna said, "Duck wants to make things better."
The votes were counted and Duck won. Students filled in a graph and answered questions.
Students really enjoyed reading this story and learning about elections and the importance of voting.
---
VES 2016/2017 School Supply List
All students need to supply earbuds or headsets
Grade K &1 Supply Lists was mailed out by the student's teacher at the end of August.
---
Harassment Intimidation Bullying
*You may anonymously report incidents to Mrs. Palella or Ms. Polise via E-mail or using our reporting form located here
A provision in the Anti-Bullying Bill of Rights Act requires all New Jersey public schools and school districts complete in-depth self-assessment forms by their School Safety Team, measuring how well each individual school has met the law's requirements. Assessments were based on the period beginning July 1, 2014 through June 30, 2015. The following categories were addressed: HIB Programs, Approaches or Other Initiatives; Training on the BOE-approved HIB policy; Other Staff Instruction on HIB and Training Programs; Curriculum and Instruction on HIB and Related Information and skills, HIB Personnel; School-Level HIB Incident Reporting Procedure; HIB Investigation Procedure; and HIB Reporting. Using the Department of Education's rubric, schools graded efforts in each category, for a combined score from 0 to 78. The Ventnor Elementary School received a score of 77. The Ventnor Middle School received a score of 77.
---